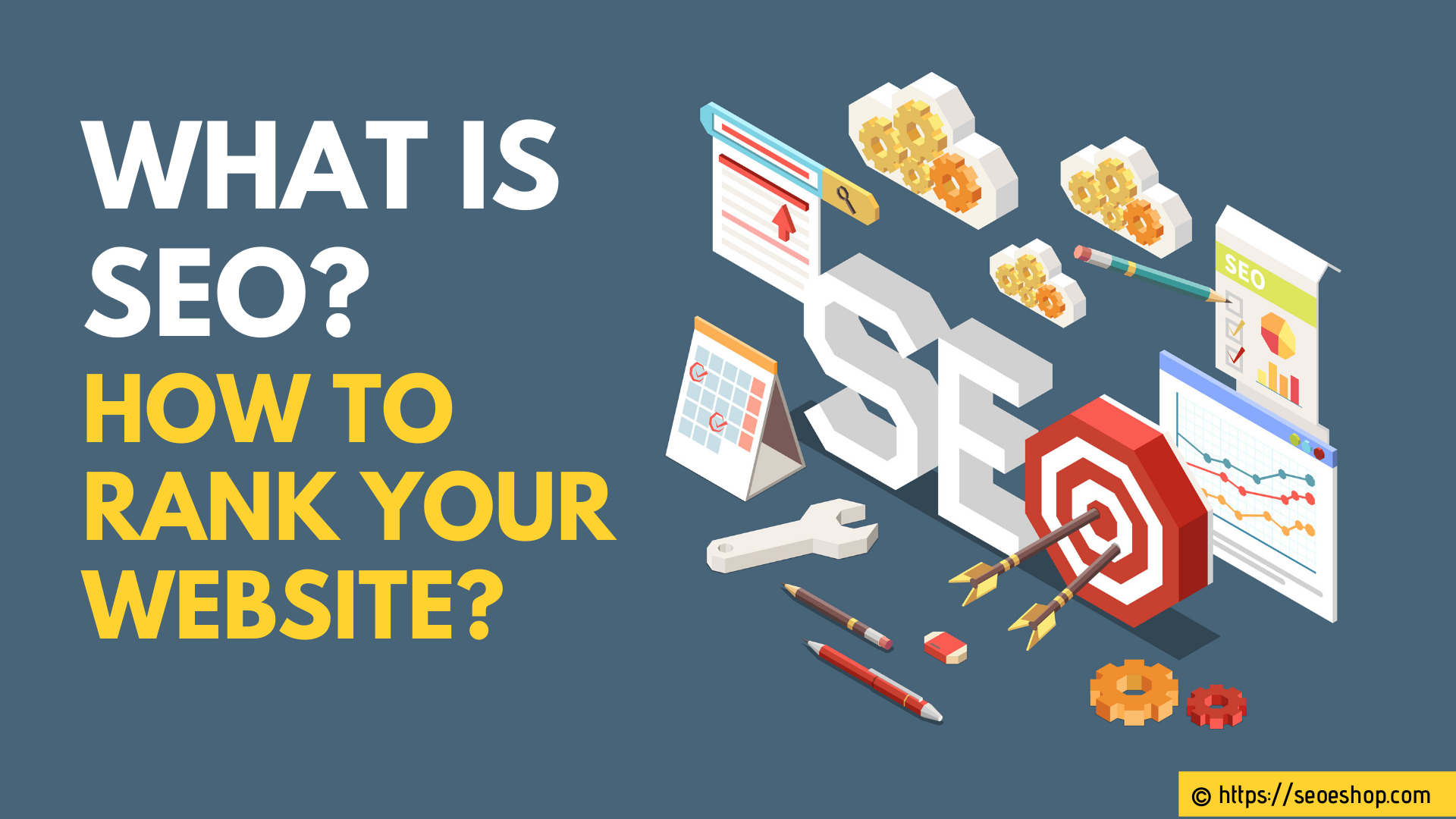 What is SEO?
SEO stands for Search Engine Optimization. It's a technique which helps webmasters to optimize their business website so that the potential customers can find them on the search engine, which means optimizing the website in a manner that when a user searches with relevant keywords related to your website, your website will show in top results of SERP (Search Engine Result Page).
There are various factors affecting rank of a page or a website on SERP (for ex: Content, Keywords, DA, PA, On-Page SEO, Off-Page SEO, Link Building, Web page Design, Backlinks, Mobile Marketing, etc)
What is SEO & SEM?
SEO
- Search Engine Optimization (Organic)
It helps your website to rank on SERP organically, it is free you just have to optimize your page in a way that when a user searches for a relevant keyword your result will show on the first page.
SEM
- Search Engine Marketing (Paid)
It helps your website to rank faster on SERP with paid ads, but it will show your result on the top as long as you are advertising.
How To Rank Your Website?
For that, you need to optimize your websites but keep in mind Ranking on SERP is an ongoing and long time possess. Ranking depends on may factors mention below:
Search Engine's Algorithm/ How Search Engine's Works?
Crawling - Is a process when a search engine visits a website for tracking. In this process, crawlers copy all the data from the website.
Storing - After crawling, data of websites are stored on the search engine server.
Processing & Indexing - Based on the data stored on the search engine server, data is organized for indexing through a process, which helps to deliver results quickly when the user searches for a particular keyword.
Rank - When you search for a query/question, Search engine search the most relevant/appropriate answer to your query and rank them in order to most relevant to least relevant to your query and show you the results accordingly.
What Is Website Ranking and Search Engine?
Search Engine is a software system where you search your query/question with the relevant keyword. This information is a mixture of links, websites, pages, images, videos, articles, and more. There are different types of browsers which show results on SERP, for example:
Ranking - When a user searches a query on the search engine, the results you see from top to bottom are known as website or page ranking, which means the first result is number 1 on ranking, second is number 2 on ranking, and so on. Website rankings differ a little when searches on desktop or a mobile device. There are different factors to rank higher.
On-Page Optimization,
Off-Page Optimization,
Domain Authority,
Page Authority,
and many more factors for ranking on the search engine.

Types Of SEO?
There are two types of SEO (Search Engine Optimization) - On-Page SEO and Off-Page SEO.
On-Page:
On-Page SEO - is when you optimize the design and content on your own site. Optimizing your Website or web page in order to rank higher. There are different factors that can improve ranking; one of them is 'Content' - relevant content plays a very important role in ranking on the search engine.
How To Optimize Your On-Page SEO?
For optimizing your on-page SEO you need to optimize these factors mention below:
Title Tag:
HTML Code -
Title Tag is the element that defines the title of your web page. It is displayed on SERPs (Search Engine Results Pages) as a clickable title or heading.
Title Tag is the most important On-Page SEO element, Moreover, if your website is ranking higher on SERPs, a good title can be the make-or-break factor in deciding whether or not someone clicks on your link.
Meta Description:
HTML Code -
Meta Description is a part of a small paragraph about 155 characters, it an HTML tag that explains briefly about your web page content on SERPs. A good meta description can also increase your CTR (Click Through Rate) which will give your site more traffic. Meta Description is also an important part of On-Page SEO. It should be nice and crisp so that it can create attention towards your web page. Meta Description does not influence ranking directly, but it can influence CTR (Click Through Rate)
Tip - You should always optimize your meta description and try not to excise the 155 characters word limit.
URL:
URL is known as Uniform Resource Locator. This is the address/location of a web page. URLs are highly important for relevancy, you should add your main keyword in your URL. Always try to keep your URLs short and crisp.
URL Structure - Different parts of a URL defines different meanings to search engines and users.
Domain names represent your business, brand, etc. Always choose a domain name that defines your website in the right way. Your domain name should not be very difficult to spell or pronounce. You can include keywords (but don't go too far).
A subdirectory is a part of a URL that stores a specific subset of content, it can be any web page like blog, service, product, etc. Don't use too many subdirectories in your URLs (Ex - https://xyz.com/product/backlinks/socialmedia/product/part/45856239861/).
Header Tags:
Header Tags are just nothing but headline or heading in your web post. They're usually used to differentiate between the headings. There are six types of header tags H1, H2, H3, H4, H5, and H6.
For example, you can use the Header Tags in this way:
H1 - Post Title
H2 - Main Heading
H3 - Sub Heading
Tip - You should place your main keywords in Header Tags, it will improve the search engine visibility for your targeted keyword.
Keywords:
Keywords are also known as Keyphrases, Keywords are the terms blended with the content to improve search engine ranking for that particular word or term. You can find those words during Keyword Research and choose the best and relevant keywords for your website or a web page. You should choose your keywords during keyword research based on the combination of search volume, competition, and commercial intent.
There are two main types of Keywords:
Short Tail Keyword:
Shorter Query

Higher Search Volume

Broad Intent

Example - Shoes
Long Tail Keyword:
Longer Query

Lower Search Volume

Specific Intent

Example - Black Leather Shoes
Why Keywords Are So Important?
Keywords are important and matter in SEO for various reasons, but here are two important ones.
Keywords help us what people are searching for on the SERPs and allow us to better understand their needs and what they want.

Keywords can provide an 'App Marketing' towards which marketers can aim their content.
How to Find Best Keywords for SEO?
Keyword Research is a long and ongoing process, you need to work on keyword research on a daily basis, only then you will find Best Keywords for SEO. You can use some tools for Keyword Research like:
Free Tools:
Paid Tools:
SEMrush - All in one SEO Tool.

Ahrefs - Keyword Explorer

Moz - Keyword Explorer
Do's and Don'ts
Most beginners make the same mistakes when it comes to SEO Keyword Research.
Do's
Choose keywords that are related to your website or your post.

Always choose keywords that have low competition and high searches.
Don'ts
You should never do Keyword Research once. Keyword Research is a continuous process, you should do this very often.

Never target very popular keywords, because they are very competitive and very hard to rank.
Content:
Content is the most important factor of a website, as per the latest Google Algorithm Update content is the most important factor if you want to rank your website higher on SERPs.
How To Write Good Content?
Get to know your audience

- You need to know what your views what to see on. For that, you can add a 'ASK ME' form where you will get all the questions.

Check out your competitors - You should do Competitor Research which will help you to know what your competitors are doing, but keep in mind you don't have to 'COPY' them you just have to pick positives which you and add in your website and also negatives which you have to remove from your website.
Optimize your content - You should use some attractive images which will make your content more appealing and eye-catching. You can add graphs or bars if you want to add some numerical data to your blog article.
Image Alt Text:
Alt Text is known as Alternative Text that shows when the images are not able to load for some reason or image is broken. Some search engines use alt text to derive meaning from the images.
On-Page Don'ts
Hidden Text - Don't try to hide text with 'background-color' because when web crawler visit your website it will read all the details even the 'hidden text'.

Keyword Stuffing - Don't overstuff keywords.

Repetitive Anchor Texts - Don't use the same anchor text again and again.

Off-Page:
Off-Page SEO is optimizing your content on other websites. There are so several ways to optimize the content on other websites, the main and the most effective way is creating backlinks on other websites. Optimizing content on other websites with guest posting, link building, etc in order to archive higher ranking on SERP's .
Links and off-page SEO
The core of Off-Page SEO is backlinks. Backlinks are those links which are coming from your someone else's website to your website. Search Engine gives more priority to a backlink if the link is coming from a good high DA website. Creating too many backlinks form some low DA website will not give you anything but it can harm your website. Therefore, you should always consider a higher DA website for backlinks.
There Are 3 Main Types Of Links?
Natural links -

Are those links which come naturally (without any asking to add link or payment). Let's understand with an example: A fashion blogger post a product image on his website, page or blog and add a link which linking to that product is known as Natural Link.

Manually built links-

Are earned by solid link-building activities. It includes asking some influencers or some good websites to share your content.

Self Created Links -

Are those backlinks which create by yourself. these are those websites where you create backlink in an online directory or forum with optimized anchor text.
What are Forum Backlinks?
Forum backlinks are those links that are coming from a question and answer website.
There are some forums websites where you can ask a question about anything or you can answer. A website like Quora is a very good website for creating good quality forum backlinks, but keep in mind that don't spam random links on Quora because if you spam random links on questions asked on Quora your account may get suspended or banned from Quora.
FAQ's
Q - Where To Find Good Backlink Website?

A - You can use some tools like SEMrush or Ahrefs, these tools are paid tools but you will get a 7 days free trial on SEMrush or you pay $7 for trial for 7 days on Ahrefs.

Q - How Long Does It Take to Rank on Search Engine?

A - Ranking on the search engine through organic is not at all easy you have to put in hours and hours of hard work and time, but of course not impossible at all. You need to focus on both On-Page & Off-Page SEO. On-Page factors like design of the website, creating engaging content along with photos or graphics for the users & Off-Page Link building, Guest Posting, etc. So, Overall it is a long and continuous process to rank higher on the Search Engine Result Page.
*Ranking depends on many factors & requires a proper strategy.
Thanks for reading this blog article!
SignUp Now to Get FREE Access to our All in One Digital Marketing Platform!
We will continue to update Front; if you have any questions or suggestions, please contact us!
Follow us on Facebook, Instagram, Twitter, Pinterest, Linkedin, YouTube, and Medium.

Written by
I create advanced website builders made exclusively for web developers.
3 Comments

As a Special Education teacher this resonates so well with me. Fighting with gen ed teachers to flatten for the students with learning disabilities. It also confirms some things for me in my writing.
Reply

Love it Dave! We're all about keeping it up.
Reply

Maria Muszynska
2 days ago
Since our attention spans seem to be shrinking by the day — keeping it simple is more important than ever.
Reply
Post a comment
Stay in the know
Get special offers and the latest news updates from SEOeShop™.